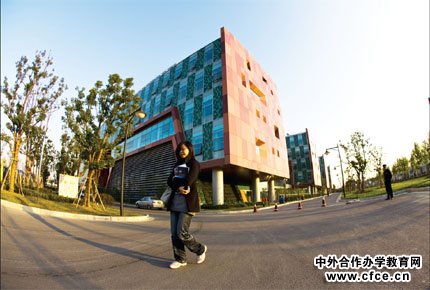 (上海日报6月2日 记者 Liam Singleton) A decade ago, Xi'an Jiaotong-Liverpool University was little more than an idea floating around the boardrooms of two top universities.
Britain's University of Liverpool and China's Xi'an Jiaotong University were already research partners, but they wanted to make that connection more tangible, so an ambitious project was initiated - building a university incorporating the best elements of both institutes, yet be an independent institute in its own right.
The idea was this: on one hand, you have UoL, part of the prestigious Russell Group and England's first red brick university. On the other, you have XJTU, a member of the elite C9 League (China's Ivy League) and one of China's oldest institutions. The very definition of a strong-strong partnership, these parent institutes would nurture the project into maturity.
Today XJTLU based in Suzhou, Jiangsu Province, marks its fifth anniversary and boasts its first graduating class (2010). It is beginning to embody its parents' expectations, and forge its own path and identity.
A unique and ambitious venture, it's the only university on China's mainland to award both Chinese and British degrees, and it's scrutinized by both Chinese and UK education authorities.
With China's opening up, entry into the WTO and substantial educational reforms and investment, institutions around the world are looking to get in on the education act. XJTLU was one of the first (opening in May 2006), along with the University of Nottingham's Ningbo campus and Beijing Normal University-Hong Kong Baptist University International College. New York University is set to open NYU Shanghai in 2013, partnered with East China Normal University. It aims to be the first American university with an independent campus in China.
In addition, there are many other educational partnerships of various kinds between Chinese and overseas universities.
The new model "just gives students new options," says Xiong Bingqi, vice president of the 21st Century Education Research Institute.
"Many students believe education at such universities gives them more advantages," he says.
Xiong recommends overseas universities seek more ways to enroll Chinese students without necessarily setting up a new institution.
Lessons learned
However, lessons can be learned from XJTLU's experience, which like any venture of this scale has had to surmount its fair share of obstacles.
Bridging the cultures was the first gulf to cross when constructing a working model. "Cultural disparities (exist) between the two sides," says Professor Wang Jianhua, XJTU's Party Secretary, who worked alongside former UoL Vice-Chancellor Professor Drummond Bone in setting up this institution.
"The two sides held different opinions in management methods at first due to big cultural differences between China and the West," Wang says.
Eastern and Western approaches to higher education are substantially different. China's outwardly rigid, rote-learning approach is in stark contrast to the supple, self-directed style attributed to Western systems in the UK, US and other countries.
Academics, management, students and parents on both sides all held different preconceptions of university education - finding a common ground was a major issue. Yet reactions from the first cohort of students suggest these concerns have been overcome, and as the system matures and becomes more familiar, wider acceptance is expected.
Then there is reputation and prestige, or the lack thereof - a central concern when recruiting Chinese students and high-caliber international staff. "Newly established universities usually have a low degree of recognition in society. Therefore recruiting high-quality students to make this brand-new educational model recognized by society and parents is a tough job," says Professor Wang.
A look at XJTLU's rapid expansion plan suggests they have overcome this hurdle. In five years enrollment has risen from less than 200 to more than 4,000. The target for 2015 is 10,000 students, including postgraduates in master's and PhD programs. Students come from all over China, and the number of international students, now around 100, is expected to increase. It's still far from having the diversity that UoL boasts.
XJTLU's main selling point is its dual degrees: students can study solely in XJTLU and still obtain a UoL degree. Many choose to do the '2+2 Program,' completing their final years in Liverpool.
"The students matriculating to Liverpool are in the hundreds, and it's quite likely that there will be over 2,000 XJTLU students. That's had a huge impact on the university, the city, the economy," says Professor David Sadler, XJTLU's new vice-president of academic affairs.
For the 700 Chinese students at Liverpool, the transition is relatively smooth because of the similarities in teaching style and the teaching of all classes in English from the second year onwards. They are supported by the English Language Center, which soon will have 100 tutors.
Academically, the students who go to Liverpool excel, although English proficiency in social situations is the main stumbling block.
The move to Liverpool was smooth for Zheng Yanfei who has received offers from Cambridge and Oxford for master's programs.
"I came with a large group of friends," says Zheng, a major in mathematics and finance. "The so-called cultural barrier did affect me, but we explored the new world together, so it didn't take long to adapt.
"We are now able to read more articles about China, which generated critical thinking and subsequently changed my perceptions."
Active learning
Students are required to take a different approach to learning at XJTLU, which is a shock for many. "One of the core things in the model is becoming an active learner," says Professor Sadler.
"That means not just taking material as given, it means using different sources and interrogating the evidence." Students relish the new academic freedom.
"The first two years were a big surprise," says Huang Zongyan, majoring in computer science and technology.
"Instead of traditional spoon-feed education, I received a brand-new active learning approach (that) cultivated capabilities for independent creativity and questioning. This is a vital difference from other universities."
Huang is now a postgraduate at Cambridge.
Liverpool is positive. Sir Howard Newby, UoL's vice-chancellor, has pushed global aspirations to the fore. "As a new model for higher education, XJTLU has gone from strength to strength. Students experience the best of Chinese and Western styles of learning and benefit from a truly international education," he says, noting that graduates are prepared for a multi-national, multi-cultural and multi-ethnic world.
XJTLU leans heavily toward the British system. The input from the Chinese side is softer, says Professor Sadler. "From Xi'an we benefit enormously from parental wisdom and guidance about the Chinese educational system, structures, practices, processes and people."
In many ways XJTLU was the guinea pig venture in the spotlight.
First Class Honors
Of the first graduates, those with First Class Honors degrees numbered four times the UK average; more than 90 percent are postgraduates at top universities. It's an impressive start and a good omen for others.
"I hope it spreads," says Professor Sadler. "The students that really get this place ... and engage with the active learning model are incredibly talented, but also incredibly aware of how different their experience has been … and the advantages that gives them. They have a real awareness of the possibilities that education brings." And this, surely, is the desired result for any university.
(责任编辑:CFCE.CN)